Bake the Best Cookies with Your Kids — It's National Cookie Day!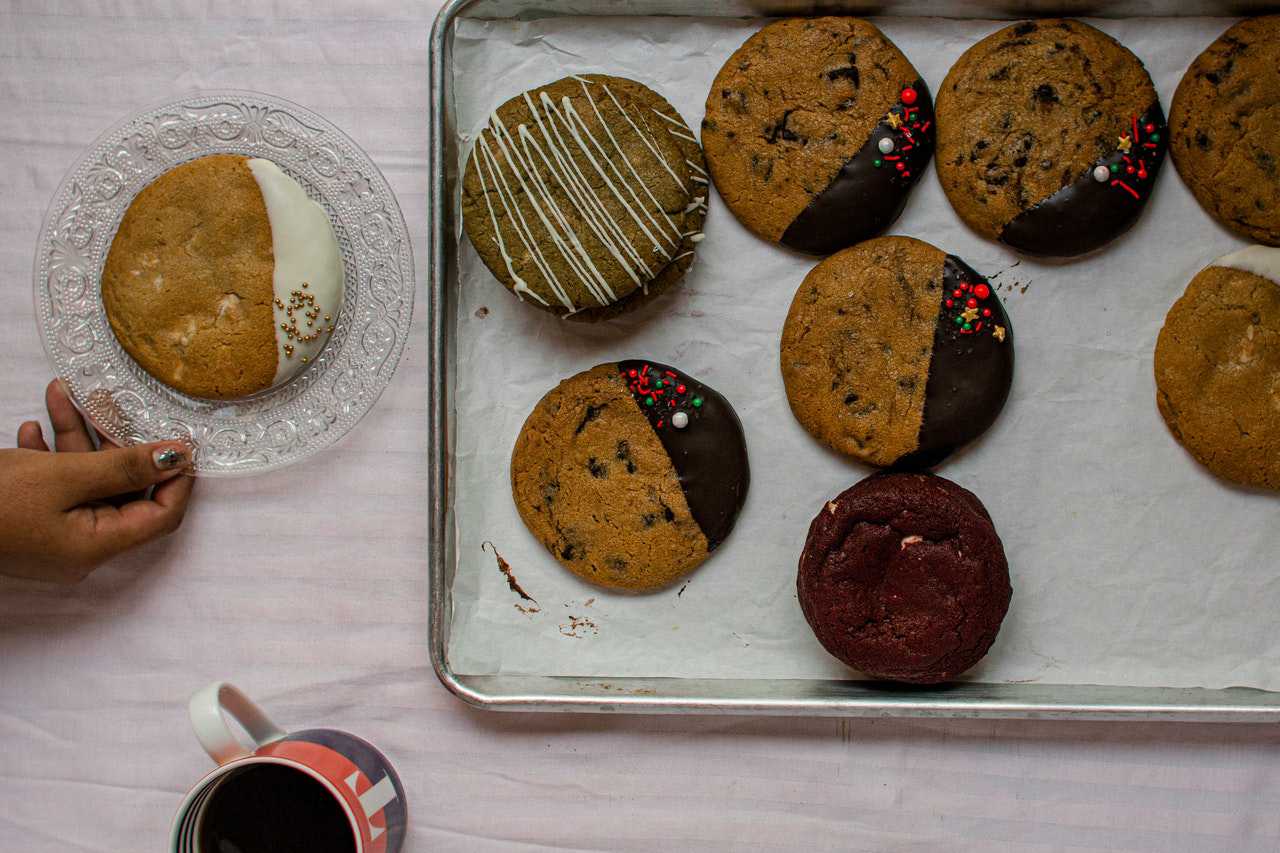 On December 4th, Show Your Baking Skills with These 3 Simple Cookie Recipes
Whether you like your cookies soft, crunchy, or with chocolate chips, one thing's for sure: You'll be delighted to spend the 4th of December indulging in these heavenly goodies. We're celebrating National Cookie Day!
Cookies have been around in America since the 17th century, thanks to Dutch settlers. Americans had their first taste of cookies when these migrating Europeans were generous enough to provide 800 pieces of these confection to guests at a funeral. Not surprisingly, they loved every little bit of them, which eventually turned into a beloved snack across the country.
With cookies gaining widespread attention, pastry chefs and homemakers took the opportunity to come up with their own cookie creations. Among the popular cookies that our ancestors enjoyed were macaroons and gingerbread cookies. Another crowd favorite back then was the jumble, a relatively hard cookie made from nuts, water, and sweetener.
Two centuries later, big brands like Oreo, Chips Ahoy!, and Mrs. Fields came into the scene. Although people would crowd grocery stores to buy boxes of these sweet treats, many still prefer homemade cookies.
3 Easy Cookie Recipes for You and Your Kids
One of the best ways to spend National Cookie Day on December 4th is by hitting the kitchen with your kiddos for a fun baking session. Nothing says quality time with the family than a delightful afternoon of baking. Who knows, you might even be raising a future Martha Stewart!
It's no secret that children are huge fans of cookies. From the classic chocolate chip cookies and frosted cookies to snickerdoodles, they'd always say "yes" when someone offers them a piece or two. This time, however, will be much different for your kids as they'll be the ones to make cookies from scratch — along with you, of course!
Here are 3 easy-to-bake cookies that you and your little chefs can whip up without any difficulty.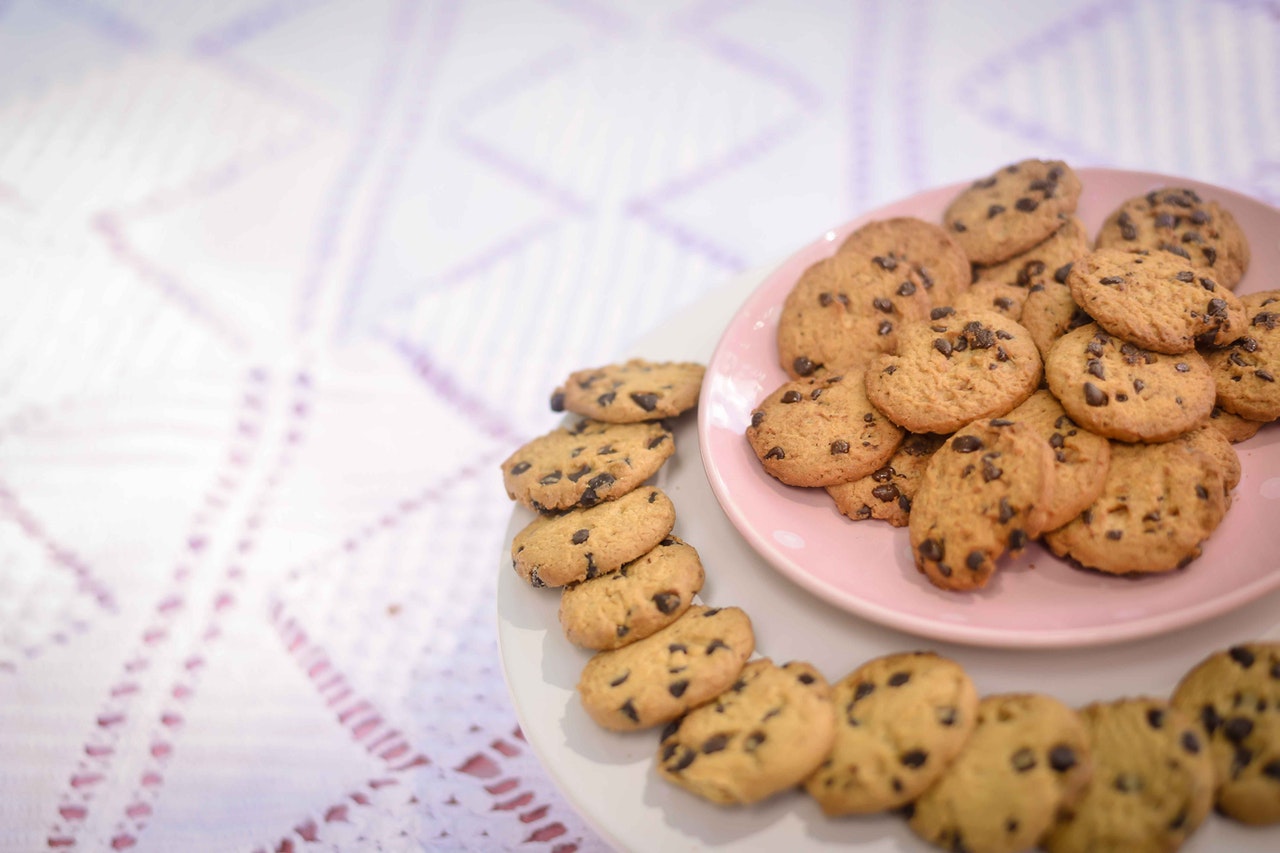 1. Peanut Butter Chocolate Chippers
You'll need:
1 large egg
1 cup creamy or chunky peanut butter
1 cup packed brown sugar
3/4 cup milk chocolate chips
Granulated sugar
Steps:
Preheat the oven to 350°F. Mix the egg, brown sugar, and peanut butter in a medium bowl until they're well blended. Add chocolate chips after.
Roll the dough into heaping tablespoons of 11/2 balls. Place these balls on ungreased cookie sheets and make sure they're 2 inches apart. Dip a table fork into granulated sugar and press each ball with it in a crisscross manner.
Bake 12 minutes or until set. Allow the cookies to stand on cookie sheets for 2 minutes before you transfer them to a wire rack.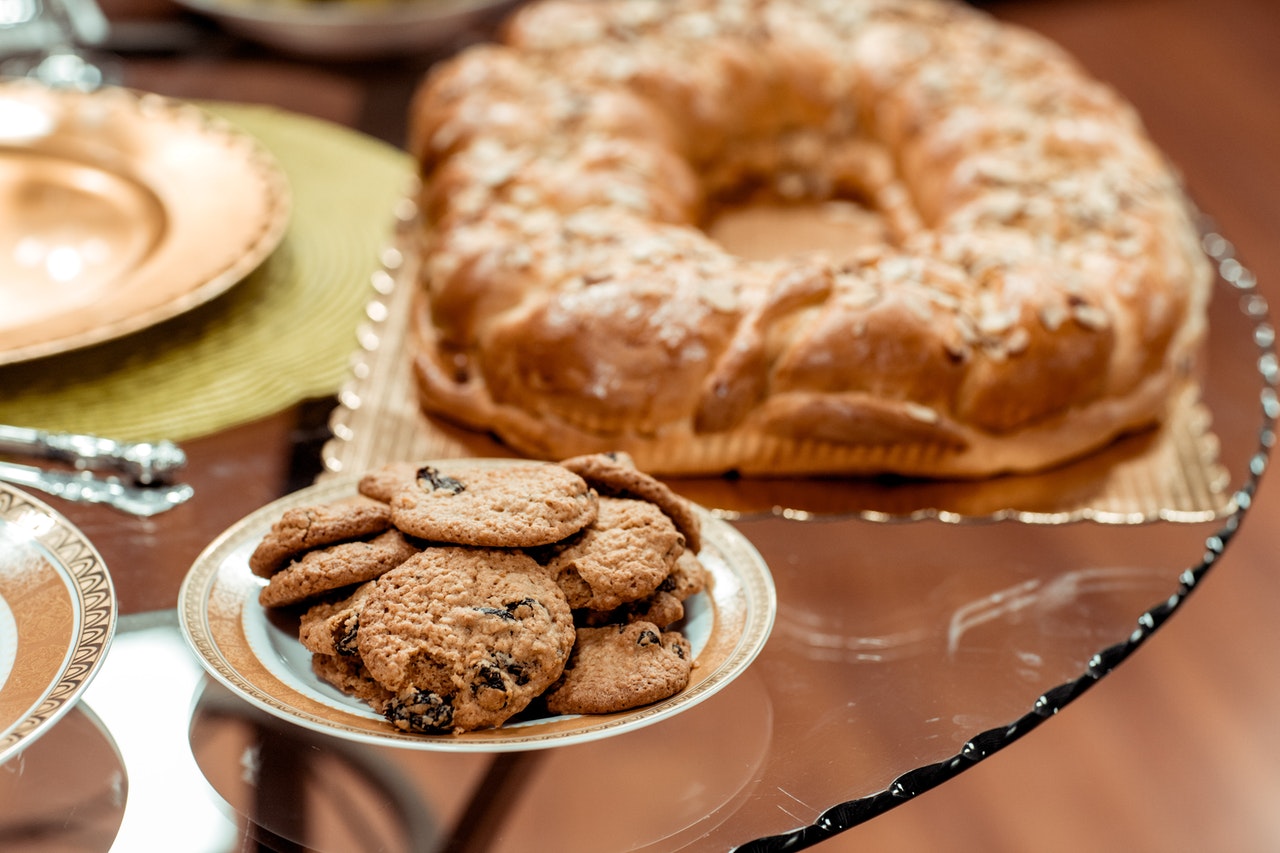 2. Oatmeal Cookies
You'll need:
3 cups quick-cooking oats
2 large eggs
2 cups all-purpose flour
1 1/2 teaspoons ground cinnamon
1 teaspoon baking soda
1 teaspoon salt
1 teaspoon vanilla extract
1 cup white sugar
1 cup packed brown sugar
1 cup butter, softened
Steps:
Cream butter, brown sugar, and white sugar together in a medium bowl. Beat in eggs one at a time. Stir in vanilla after.
Combine baking soda, cinnamon, salt, and flour. Stir them into the creamed mixture, then mix in the oats. Cover and chill dough for at least an hour.
Preheat the oven to 375°F and grease cookie sheets. Roll the dough into walnut-sized balls and place them 2 inches apart on cookie sheets. Use a sugar-dipped fork to flatten each cookie.
Bake cookies for 8 to 10 minutes. Let them cool for 5 minutes on a baking sheet. Transfer them to a wire rack to cool completely.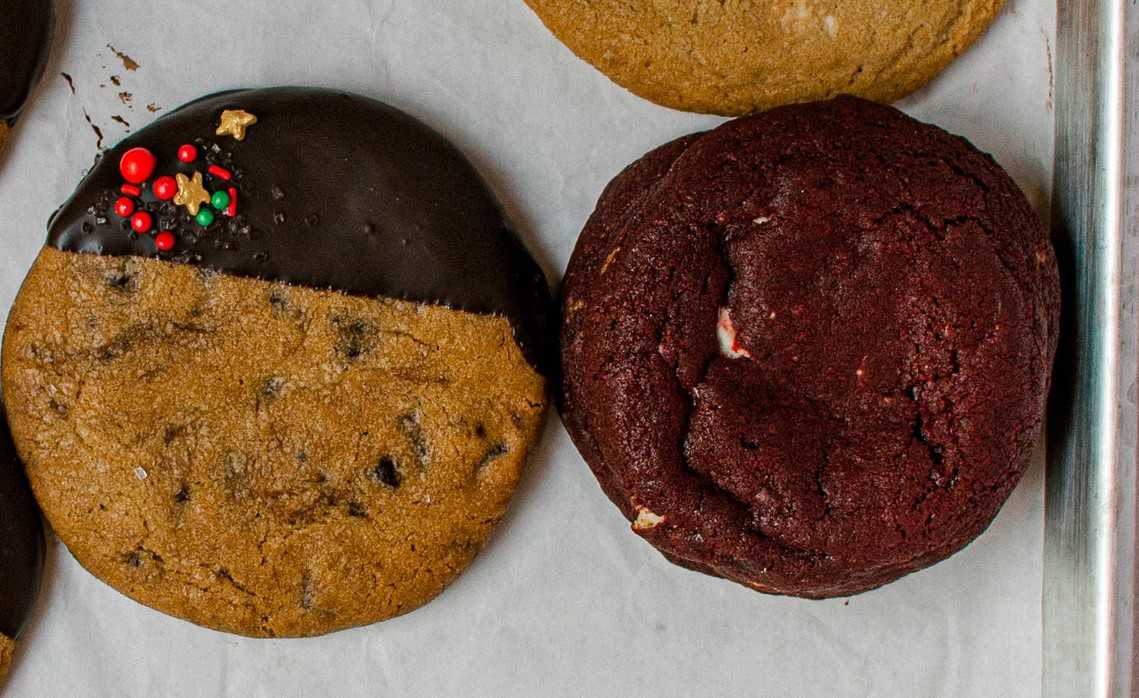 3. Frosted Red Velvet Cookies
2 cups all-purpose flourYou'll need:
2 ounces unsweetened chocolate, chopped
1 large egg, room temperature
1 tablespoon red floor coloring
1 tablespoon vanilla extract
1 cup semisweet chocolate chips
1 cup sour cream
1 can cream cheese frosting
1/2 cup butter, softened
1/2 teaspoon baking soda
1/3 cup sugar
2/3 cup packed brown sugar
Sprinkles, optional
Steps:
Melt unsweetened chocolate in a microwave. Stir until smooth and cool it after.
Using a hand mixer, cream sugar and butter in a large bowl for 5 to 7 minutes until it gets light and fluffy. Beat in the egg, vanilla extract, and food coloring. Add the cooled chocolate and beat until blended.
In another bowl, mix the salt, flour, and baking soda. Add to creamed mixture alternately with sour cream. Beat well after each addition before you stir in the chocolate chips.
Drop by tablespoonfuls 2 inches apart onto baking sheets.
Bake at 375°F for 6 to 9 minutes or until set. Transfer to a wire rack to cool them completely. Frost them. You can also add sprinkles if you want.
Sick Children Deserve Happiness, Too
Before you and your little ones unleash your inner baker to create the best batch of cookies yet, why don't you take a moment to think of the kids in your community who can't enjoy this holiday because they're grappling with serious medical conditions? Instead of spending the day with excitement over their fave sweets, many of them remain resting in bed, hoping to get their good health back.
We're here to tell you that you can help make it happen. All you have to do is to contact us at Kids Car Donations and donate to us any vehicle that you no longer need.
We'll auction off your auto donation and use the proceeds to support the vital child-focused programs of our charity partners. The funding will enable these IRS-registered 501(c)3 nonprofit organizations to continue serving more beneficiaries, providing them with quality healthcare and treatment, emotional support, free social service resources, and other essential medical services.
To repay you for your generosity, we'll mail to you your vehicle's 100% tax-deductible sales receipt. This receipt will entitle you to receive a top tax deduction in the next tax-filing season.
We'll also provide you with our free vehicle removal service wherever you'd be making your vehicle donation within the country. We'll send a licensed tow truck over to your place to collect your vehicle at a time and place convenient to you.
Even more valuable than the material perks you'll get from us, you'll also get to experience the joy and satisfaction of making a charitable act that can help in the healing and rehabilitation of severely ill or disabled children.
You can donate pretty much any type of vehicle, regardless of its age or condition. Aside from cars, we also accept RVs, trailers, motorcycles, scooters, boats, snowmobiles, ATVs, golf carts, fleet vehicles, and many others.
Got a question for us? Feel free to reach us anytime at 866-634-8395 or send us a message here. You may also head over to our FAQs page to learn more about our vehicle donation program.
Help in the Healing of Young Lives Today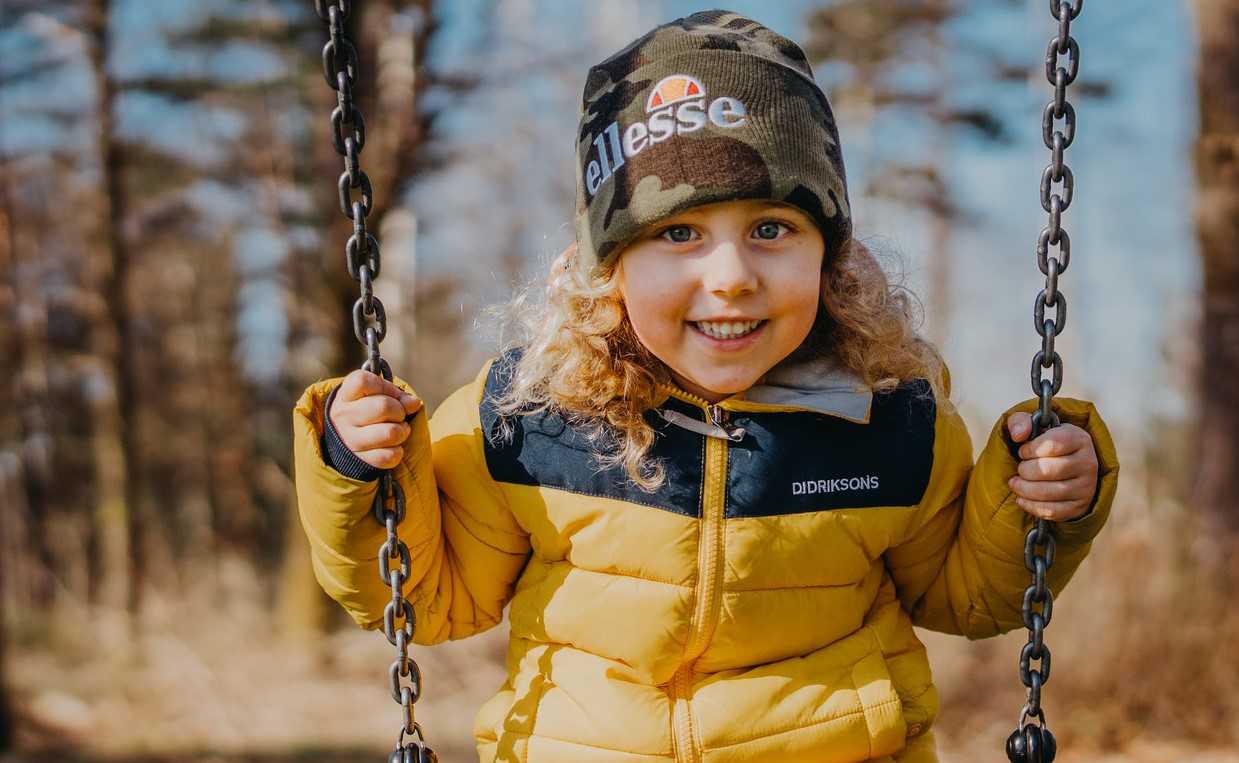 Like your all-time favorite cookies, you can also be a bringer of immense joy to seriously ill children in your neighborhood. It's time to turn over your clunker to us and give it a new and meaningful purpose. Do this by calling Kids Car Donations at 866-634-8395 or filling out our online donation form now!